X Rocker
.
Packaging design
The brief
.
We were selected to work closely with X Rocker in creating and designing the packaging for their line of gaming chair products.
Red Sentence never fails to deliver what we need, when we need it and to the standard we need to enable us to be stylish players within the ultra modern, fast paced sphere within which we operate. Creative, innovative and professional at every point of the design 'experience'. I would highly recommend Red Sentence to any business.

Managing Director X-Rocker UK
Packaging Design is important. It can be just as important as your product. Knowing this, we needed a strong design that was suitable and adaptable across all of X Rocker's product ranges: from gaming chairs and headsets through to a range of accessories. The box artwork had to be enticing. It had to attract consumers when displayed on retail shop floors. So, how did we do this?
After some careful consideration, we developed a packaging style unique to X Rocker. The design was versatile and editable; easily modified with small alterations, depending on the product and range being sold. We created two design variations: one traditional for X Rocker (orange & black) and one for their sub-brand, XR Racing, (red & black) which focuses on racing accessories.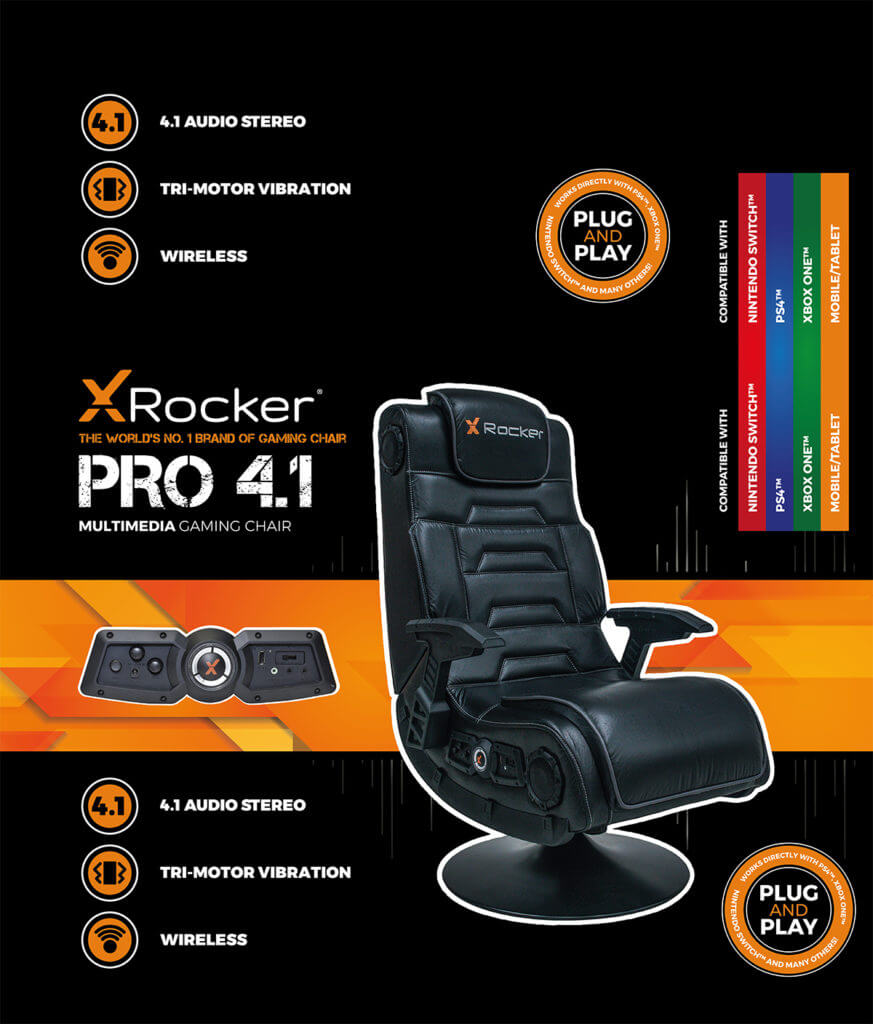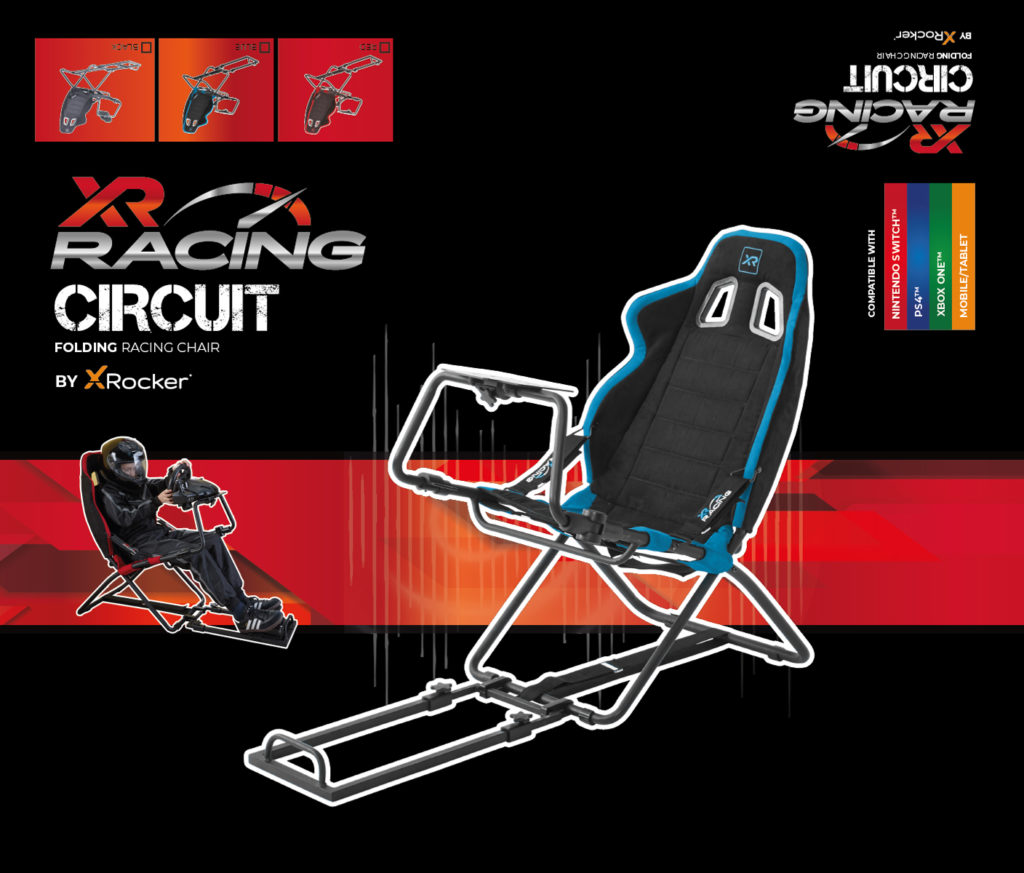 Icons
An icon is a small pictorial representation of an object. When it comes to packaging, icons are useful in highlighting to consumers the key features of certain products.
Because of this, we designed a set of duo-tone icons to be included in the packaging (either orange & black or red & black). These icons depicted product features like adjustable height and padded armrests on chairs and product connectivity features like Wifi & Bluetooth.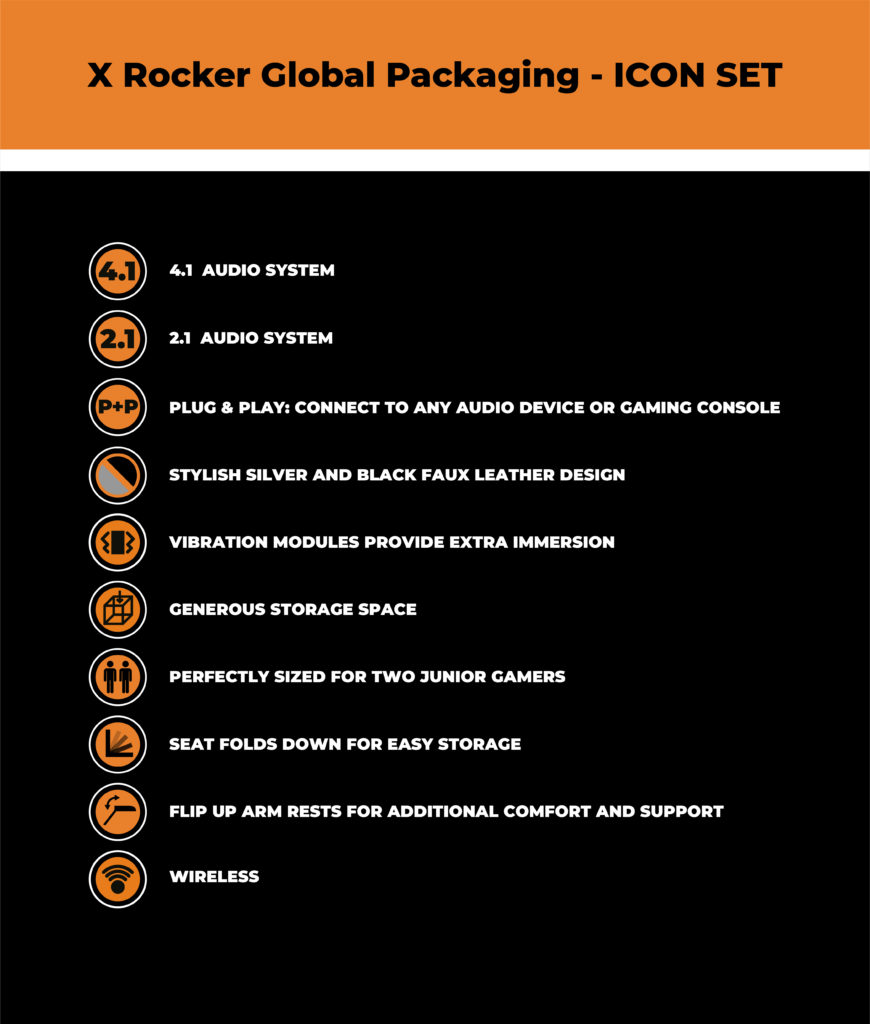 Illustrations
To accompany the icons, we decided to also create a set of simple illustrations. These were outlines of items like the different control panels and individual box contents listed below.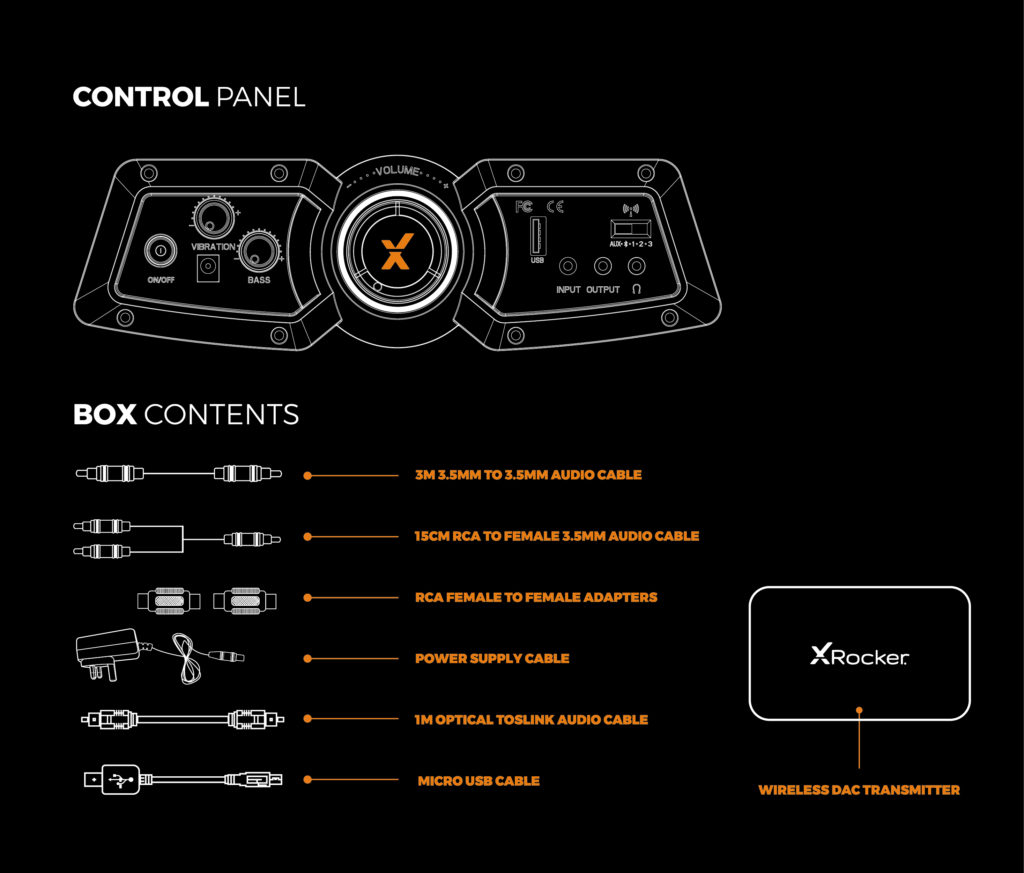 As X Rocker has a global clientele, we had to make sure that our designs also worked when sold across different countries. Product translations were added to the packaging in European languages like: French, German, Spanish, Dutch and more recently, Italian.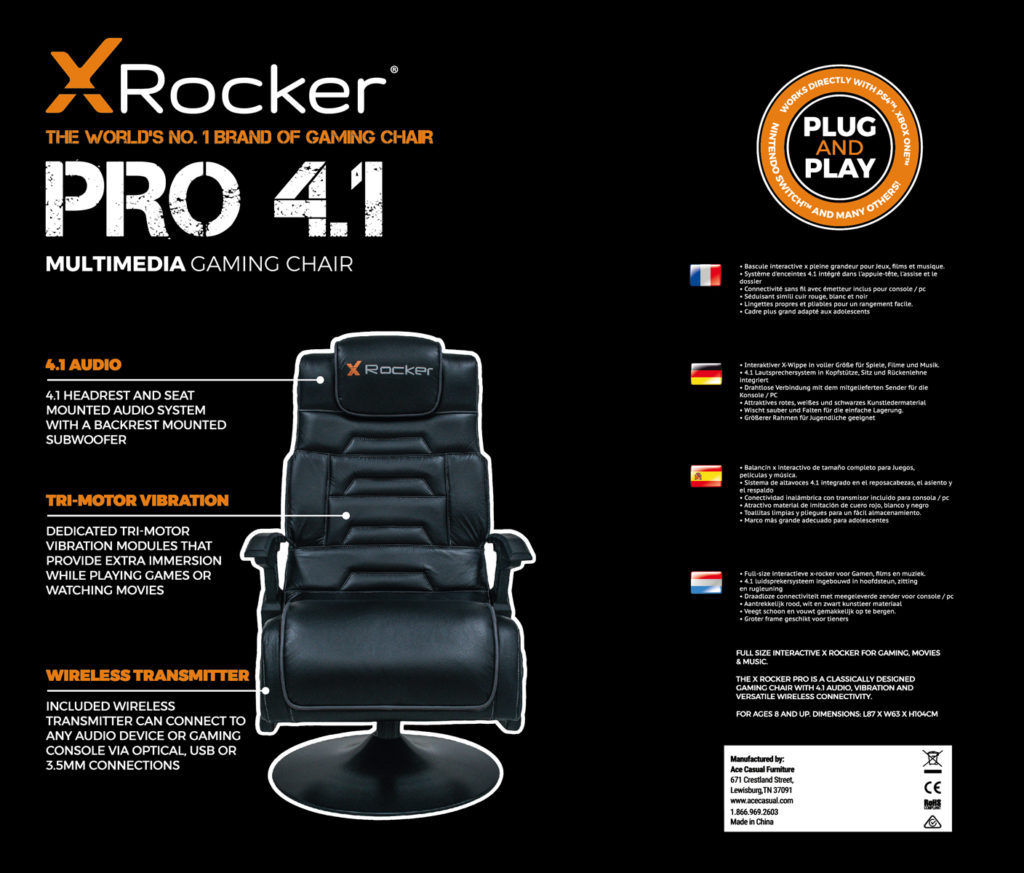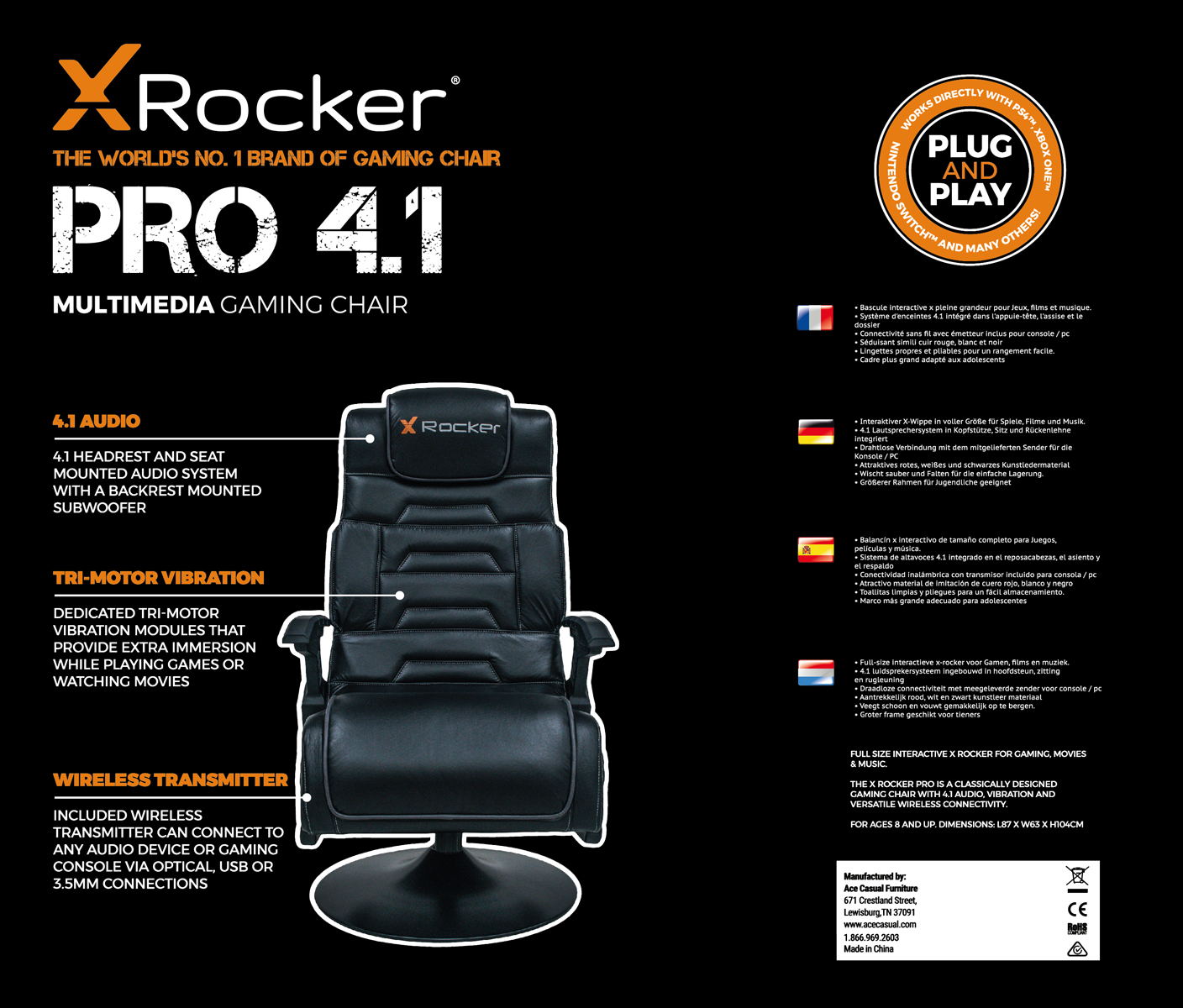 Brand consistency was key for this project. The key elements we used on the packaging (photography, icons and illustrations) were then used across product instruction manuals, guides and would later feature in the new website we designed and developed for X Rocker earlier this year!
We had great fun with this project and we look forward to creating more work with X Rocker soon.