A digital marketing expert is worth their weight in gold at the moment – because for businesses to thrive online is do or die currently and social media is a core part of any agency's digital marketing services.
What is branding social media and why is it important for your business?
Social media is computer-based technology that allows the sharing of ideas, thoughts, and information through virtual networks like: Facebook, Instagram, Twitter and LinkedIn along with many others.
Like many things, social media has positives and negatives. It is easy to sometimes fixate solely on its negatives, but did you know that social media can provide some great benefits when it comes to getting your business 'out there'?
For businesses, social media allows you to connect with your customers, increasing your brand awareness and in turn, generating more leads and sales.
Know your audience – or ask a true digital marketing expert to support you with this.
When it comes to posting your content on social media, it is important to remember that different platforms target different consumers. Who is your target audience? For example, if you're a jewellery business that targets specifically a younger generation, odds are that Instagram would be your go-to platform. However, if you're a window cleaner or in the construction business, perhaps more of your clients would be on a platform like Facebook.
Consistency is key – hence why you might need the support of a digital marketing expert with your branding on social media, at least to get you started.
This may seem like an obvious point to some but, many businesses make visual inconsistencies across their social platforms. When the cohesive styling isn't there, you can very easily lose any potential customers or clients.
You don't have much time to make a good first impression and first impressions are EVERYTHING. Your online presence needs to be clear. Your branding on social media channels must be consistent. If your potential clients are met with a different logo or colour scheme every time they come across your posts. They will be left confused and will be most likely to just give up!
This is why, when it comes to posting on any social platform, it is crucial that your feed/post follow a visual consistency. This will not only help to keep up your brand appearance but people will instinctively come to associate the styling (colours, fonts etc) with your brand making you stand out against competitors. Becoming instantly more memorable and recognisable is vital!
And isn't that what we want?! Take a look at our Instagram feed for example (why not follow us too!) www.instagram.com/redsentence/)
As you can see, although each post holds different information, they all comply with our brand guidelines. So, whether you're posting a quote or an image, always keep your branding consistent!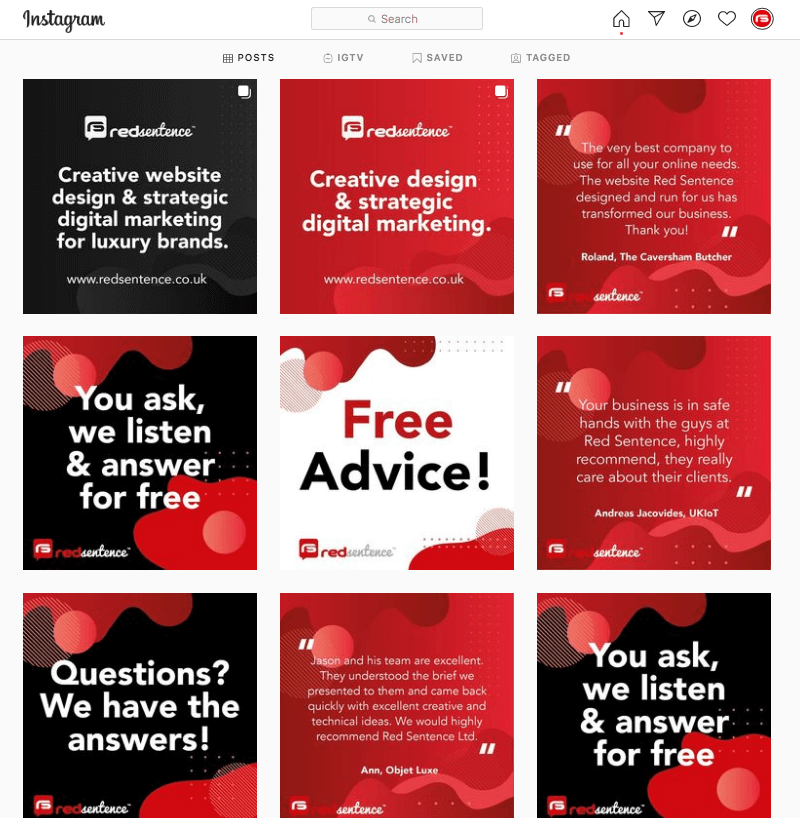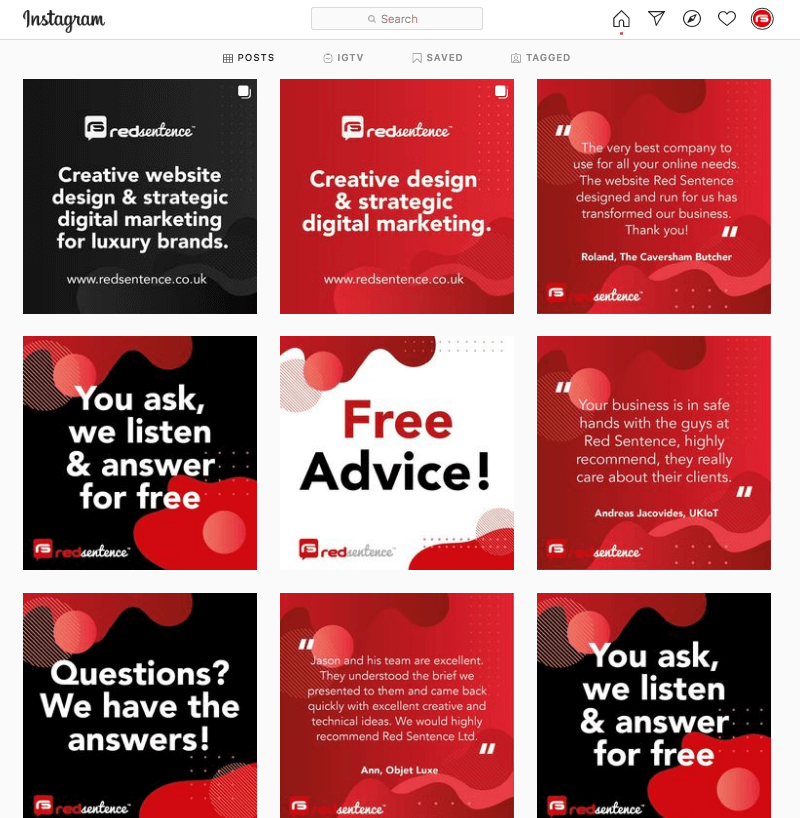 The world of influencers – also part of our digital marketing services
Stuck on how to elevate your brand further? Targeting the world of influencers may help you do this.
Social influencer marketing is very different to your traditional marketing strategies. Instead of your followers just reading about your services, influencers have the power to show audiences how a product/service benefits them in their daily lives.
By collaborating with an influencer, you are opening your brand up to a world of potential new clients and customers. Did you know that '58% of people have bought a new product in the past six months because of an influencer's recommendation'?
So where do you start and how do you decide on who to work with? In order for this to work successfully, you should choose an influencer who fits your brand/tone of voice. Would their audience be relevant to your brand? You will get much better results if the influencer relates to your brand and what you stand for/do.
Start by reaching out to some of them, perhaps focusing on the ones with not as many followers; between 12k – 30k followers (chances are they'd be more likely to reply to you!)
Send them a genuine message on social media about the possibility of a collaboration.
Tell them a bit about your brand and how you'd love the opportunity to work with them. Let them know what it is you'd like from them, for example, you might ask them to create a series of Instagram posts and story highlights whilst using your products. You could also offer up contests or competitions for their followers to win or manage channel takeovers; the list is endless! Did you know that '63% of consumers trust the influencer's opinion of a product more than when a brand does'?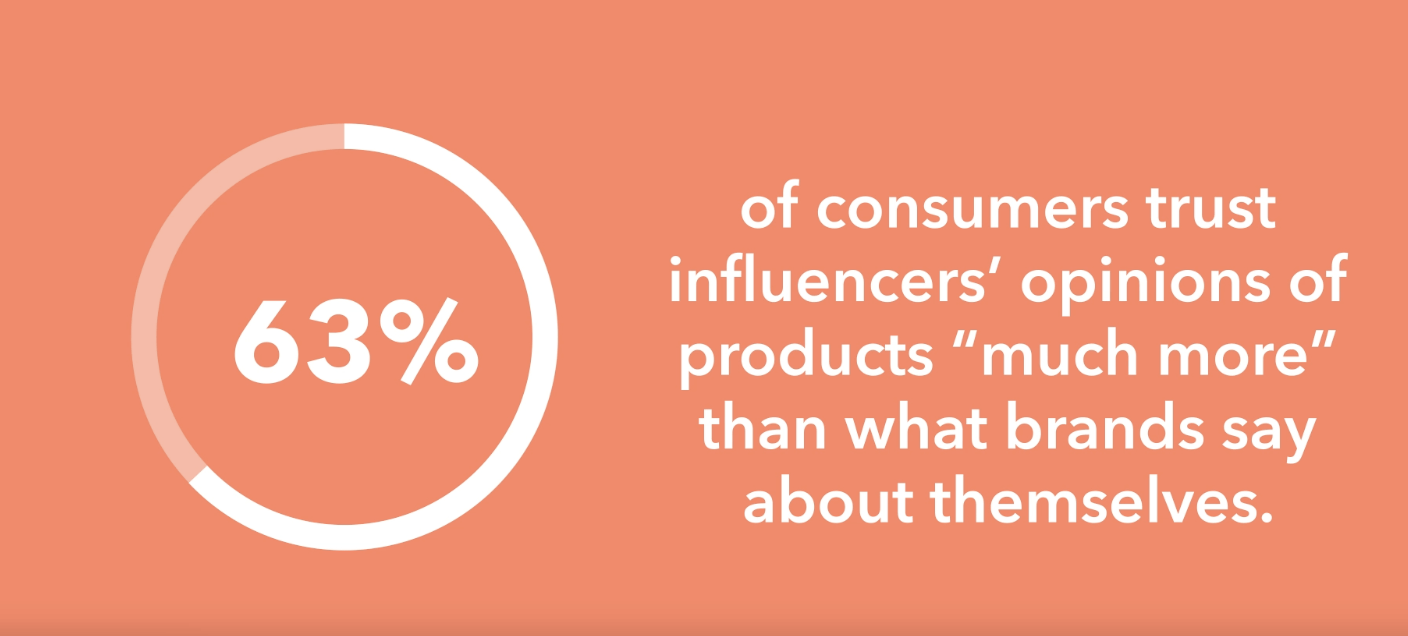 Don't Overdo It!
Once you have your branding on social media consistently up and running, it is very easy to become obsessed with posting content on a daily basis. Don't start bombarding your followers with informative stories and posts.
However, there is a very fine line between posting too much and not posting enough. You want to keep your followers updated but you don't want to encourage them to unfollow you! Research by https://sproutsocial.com/insights/data/q3-2016/ shows that '46% of social media users will likely unfollow a brand for over-posting promotional messages and stories.'
So, how often should you be posting? Everyone will have a different opinion on this but, start by posting 2-3 times a week (Tuesdays & Thursdays). Our digital marketing expert advice is:
Plan out what it is you're going to post in advance so that you're organised.
It's important to not post just for the sake of posting; quality over quantity!
Remembering that consistency is key, break up your feed with a mixture of photographic and typographic posts to keep your followers interested!
For any help with your social media or digital marketing services in general, we can help with your online presence. Please don't hesitate to contact us, we'd love to hear from you! hello@redsentence.co.uk or call us at 01483 904 950.