What is inbound marketing? It's a business methodology that attracts customers by creating valuable content to attract and engage them at all stages of the buyer's journey.
Marketing can be broken up into 2 main types, inbound and outbound.
Inbound marketing, championed by HubSpot, can be defined as:
"…a business methodology that attracts customers by creating valuable content and experiences tailored to them. While outbound marketing interrupts your audience with content they don't always want, inbound marketing forms connections they are looking for and solves problems they already have."
Outbound on the other hand is based more on promoting a product or service through continued advertising, promotions, public relations and sales. It is also often referred to as interruption marketing. For example TV commercials or magazine ads.
Essentially, with inbound marketing, the leads are coming into you, compared to outbound marketing where you are putting yourself out in front of prospective customers or clients.
This very blog is a piece of inbound marketing – by reading it we are providing value to you and (hopefully!) building trust.
If your sales process is typically quite long, building trust with your potential customer/client is so important. You are more likely to build a meaningful and long-term relationship with a customer through inbound marketing. It allows you to build trust over time and show your positioning as an expert in your field.
What are the core principles of inbound marketing?
Our inbound marketing strategies revolve around the flywheel concept. You use the momentum of you attracting, engaging and delighting your customers to keep the wheel spinning – thus your business keeps spinning.
You build momentum by consistently providing a remarkable customer experience. Your happy customers then provide referrals and repeat sales, putting more energy into the wheel.
Let's look in more detail at the three key elements inside the flywheel.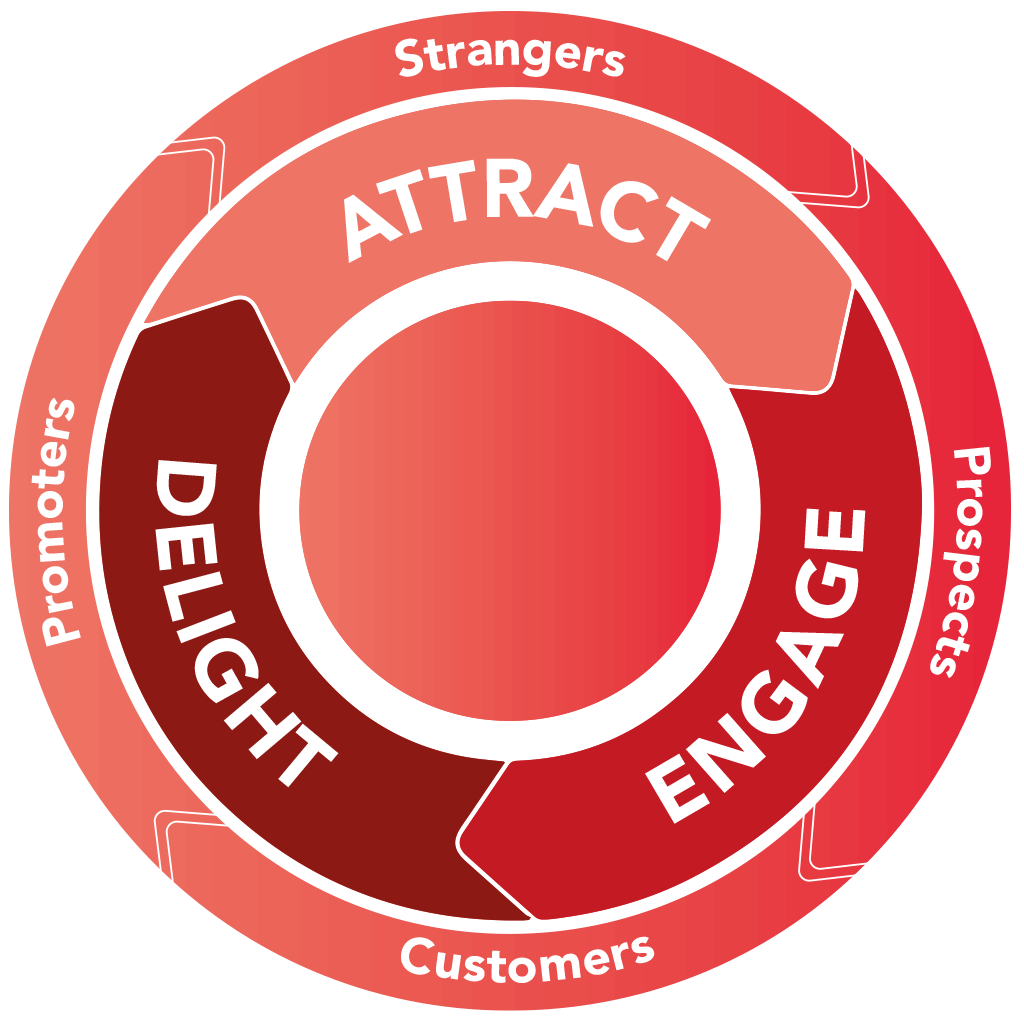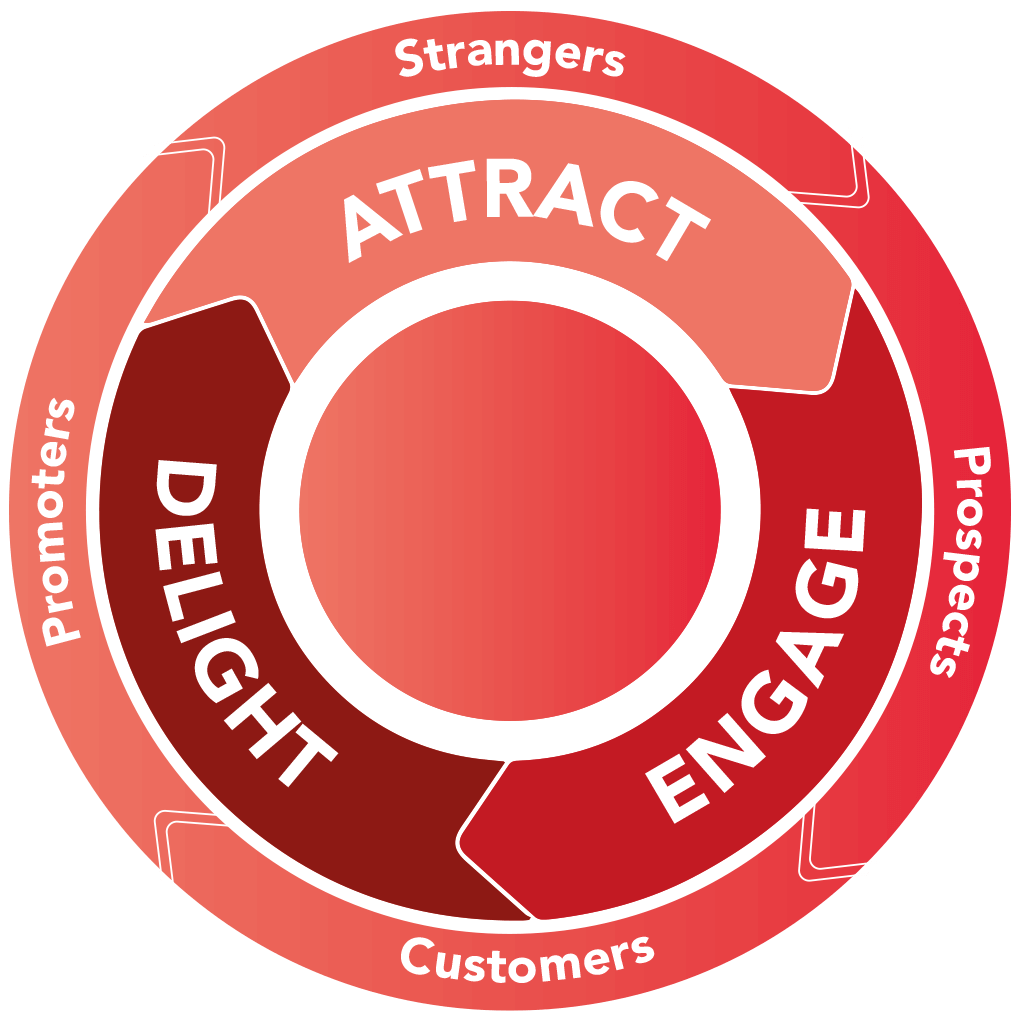 1 Attract
In the attract phase, you attract visitors to your site/landing pages with useful relevant content. This needs to be done in such a way as to eliminate potential barriers as they try to learn about your company. It should not be a forced process – the key is to earn their attention.
Activities to attract include content marketing, search engine optimization and social media marketing.
2 Engage
Make it easy for potential customers to buy from you by enabling them to engage with you. This needs to be done at the right time and in the right place. The emphasis should be on building relationships, not making sales.
Areas of engagement include your website, email personalization, marketing automation, and lead nurturing. Communication methods can vary from one channel to another, for example, a chat bot.
3 Delight
In the final delight phase, you provide help, support, and empower customers to achieve their goals. Remember, customer success is your success. Delight them with your service!
Some areas you can leverage to help achieve this are self-service programs (eg a knowledge base), having a proactive customer services department, multichannel availability, customer feedback surveys, and loyalty programs.
On the outside of the wheel, you can see how these activities relate to customers at different stages of their journey.
By attracting strangers and engaging with them, you can turn them into prospects. Through engaging and delighting them, they turn into customers, but not just normal customers, happy customers who will promote you through referrals and repeat business. Then with the referral, you repeat the process and the wheel keeps spinning.
Rather than a more traditional funnel which has a start and an ending, the wheel powers itself the more energy you put in.
What are the key inbound marketing strategies?
So how do you start to attract?
The core area is content marketing.
By creating content which is relevant, interesting and engaging, you can start to attract potential customers.
You should look at your target audience and consider them at all stages of the buyer's journey. Are they just looking for some general information about a topic, or trying to find a specific fix to a problem they are having?
You should create content which attracts potential buyers at all of the key stages:
Awareness Stage: The buyer realises they have a problem.
Consideration Stage: The buyer defines their problem and researches options to solve it.
Decision Stage: The buyer chooses a solution.
A great way of doing this is to create content which answers their questions. What are they searching for, and how can you help them? What are their problems and pain points? Content should not be too salesy, and not focus on helping them.
This content can take many forms. It could be through your blog, through ebooks you create, or through your social media posts. Even things such as videos, webinars and podcasts.
How you actually promote this content is also important. SEO is a great way to attract visitors to your content. Also, make use of social media marketing.
Inbound vs outbound
The key difference between inbound and outbound marketing is in who initiates the relationship.
Inbound marketing conversations get started by the prospect, while outbound marketing conversations are started by sales reps contacting the prospect first.
Inbound provides less friction. We all know how people feel when they receive an unsolicited sales call. The initial reaction is always a slightly defensive one. But if the prospect makes the first move, further conversations are built on genuine interest.
As previously mentioned, if your service offering usually has quite a long sales cycle, the inbound methodology will build that trust and make the process easier for the potential customer to engage and make a decision.
Outbound marketing does have its benefits too.
Immediate feedback and results – you can discover quite quickly if someone is a genuine lead or not.
Personal contact with prospects – for example through cold calling, you can sometimes quite quickly get to speak to someone directly who may be the decision maker. Inbound can take a little longer.
Control over the pace of marketing and selling – outbound marketing can be activated and implemented quickly – inbound marketing should be based on a well-thought-out strategy. Also, things like SEO can take time to start working.
For most businesses asking what is inbound marketing, they may find a combination of the two is usually the best way forward. But to build those more meaningful long-term relationships, the trust you can build through the inbound marketing methodology can really help your business to grow.