Aligned Assets
.
Web design and development
The brief
.
The existing website suffered from a high bounce rate of 78%, and over time it had become cluttered.
Overloaded with content, this was having a negative effect on engagement and the user experience. Potential clients couldn't find the information they needed quickly enough, therefore they weren't spending a lot of time on the website.
"Red Sentence have done a great job for us in re-designing & delivering our new website. It's been a complex overhaul and the results we're seeing are better than expected. Jason and the team always make themselves available to help where needed and have been a pleasure to work with. We very much see them as an extension to our team."

Justine, Aligned Assets
Web design & development
Aligned Assets are market-leaders in LLPG, LSG & AddressBase Premium gazetteers. Their aim is to help any organisation using addresses to maximise their efficiency by managing, maintaining and sharing accurate address data through the most functionally rich and advanced solutions available. Their customers are at the centre of everything they do, so they continually look to them for feedback, and use that to influence their product development and roadmap.
The first challenges with the current website we identified were the navigation and user experience. Second, Aligned Assets were looking to extend their products to utility companies; a new target audience and market for them at the time. The third challenge was to reflect in the new website the combined values that form to make the reputation Aligned Assets have cultivated over the years (their brand), while still updating and refreshing this content to a more modern and user friendly experience: achieved through a combination of the skill-sets between our graphic design and web development teams.
The design process
As we had first identified the new website needed to achieve a significantly smaller bounce rate, and considering the challenges we had identified in the user journey and user experience, the best approach to take was to engage the Red Sentence website design process.
Moving into the first stage, we informed ourselves by absorbing as much information as we can in our research on: their target audience, their competitors in the industry and existing website analytics.
Now advised to the full scope of the project, we began by creating a simple sitemap which details all of the pages that were to be listed in the site.
We then created low-fidelity wire-frames which were used to begin the conversation with Aligned Assets of how the very basic structure of the website would take shape. Working closely together, we presented, refined and amended these wire-frames until we had achieved a cohesive, user friendly structure that could then be worked upon when moving into the next stage of our design process. Our designers at Red Sentence loved working as a team with Aligned Assets; by working together it ensures the best possible outcomes.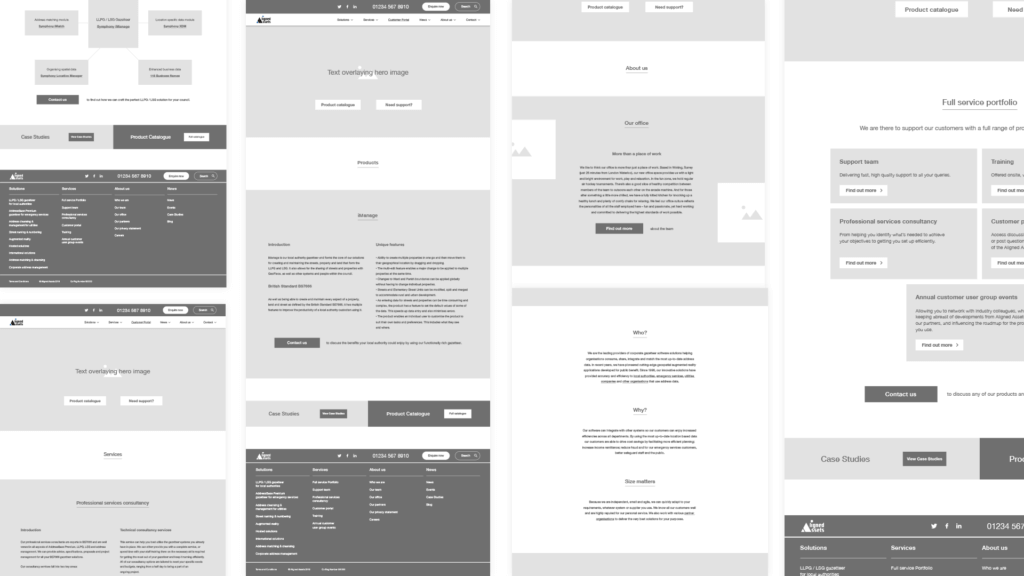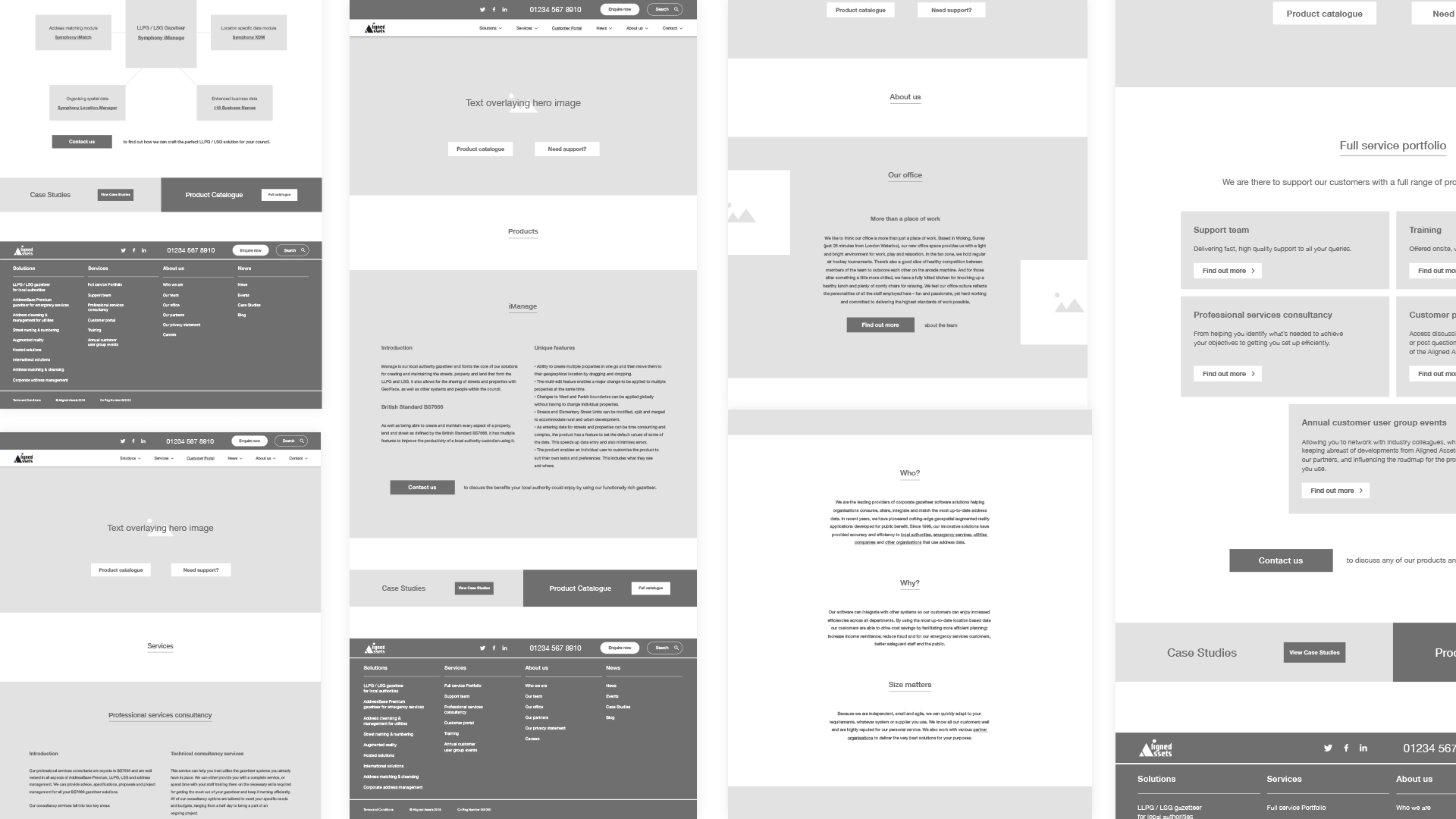 At this stage we had consistent meetings with the team at Aligned Assets to refine our homepage designs until we had arrived at a solution that our client was happy with, and most importantly: delivered on their needs and achieved the goals they had set.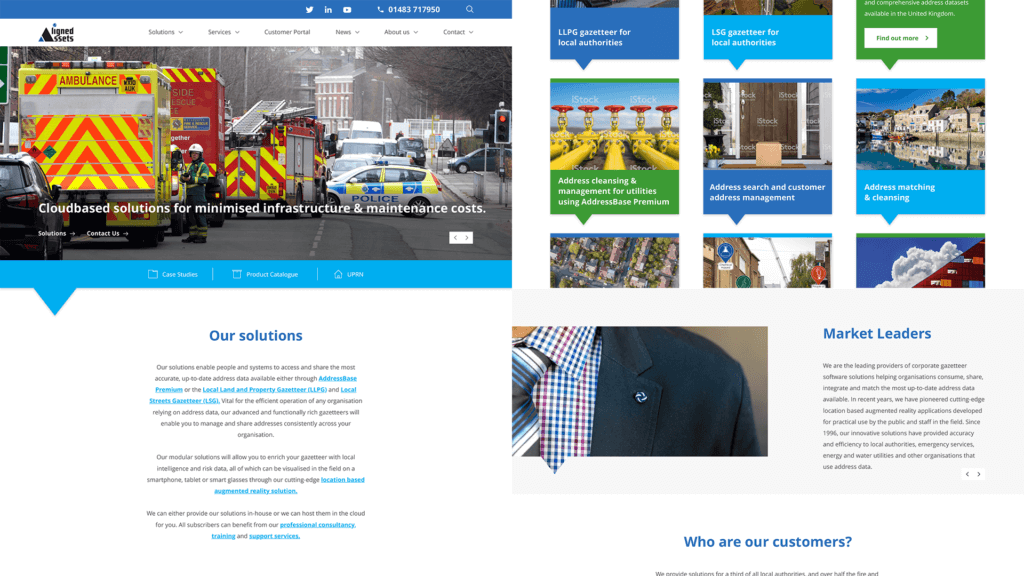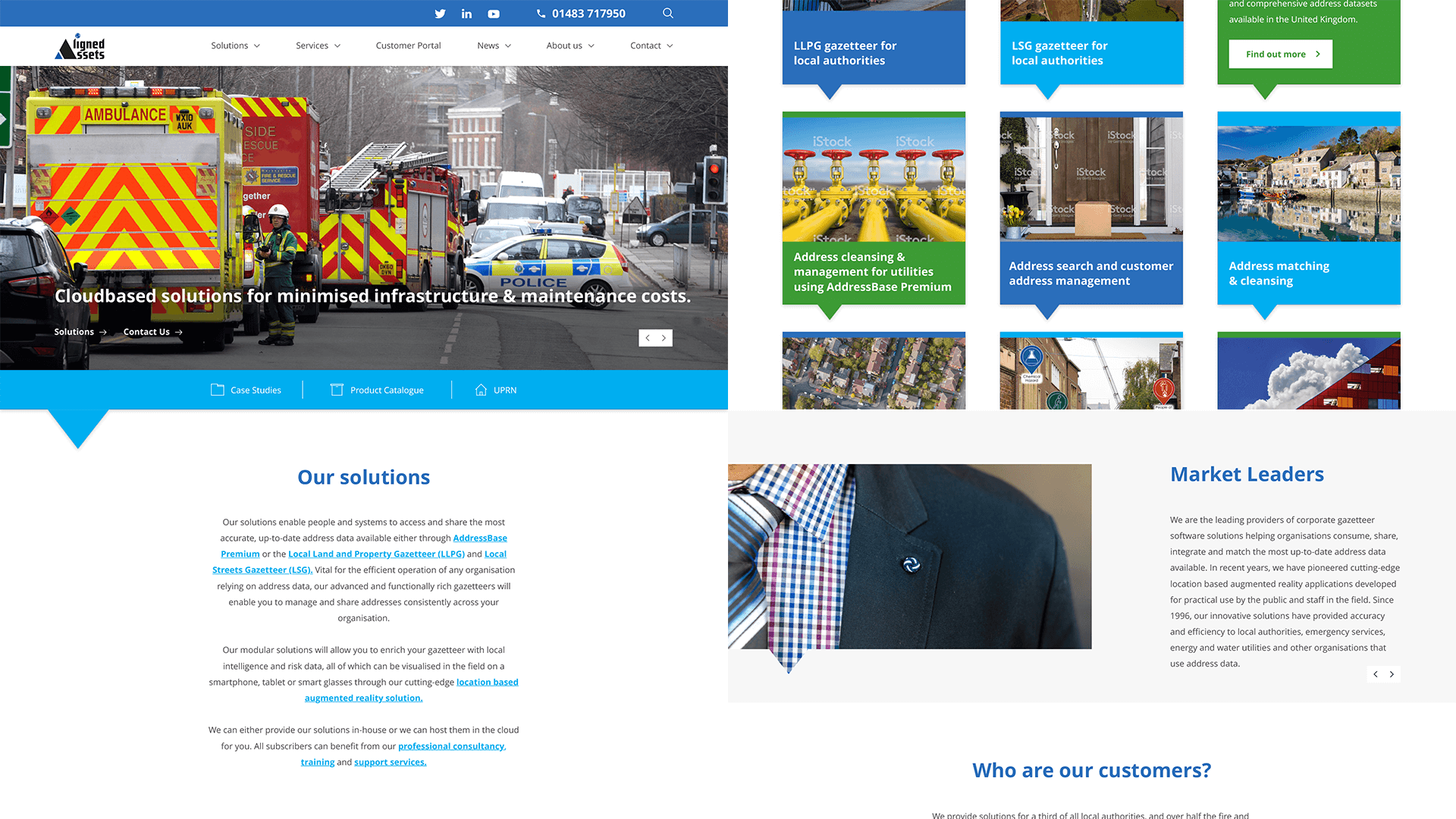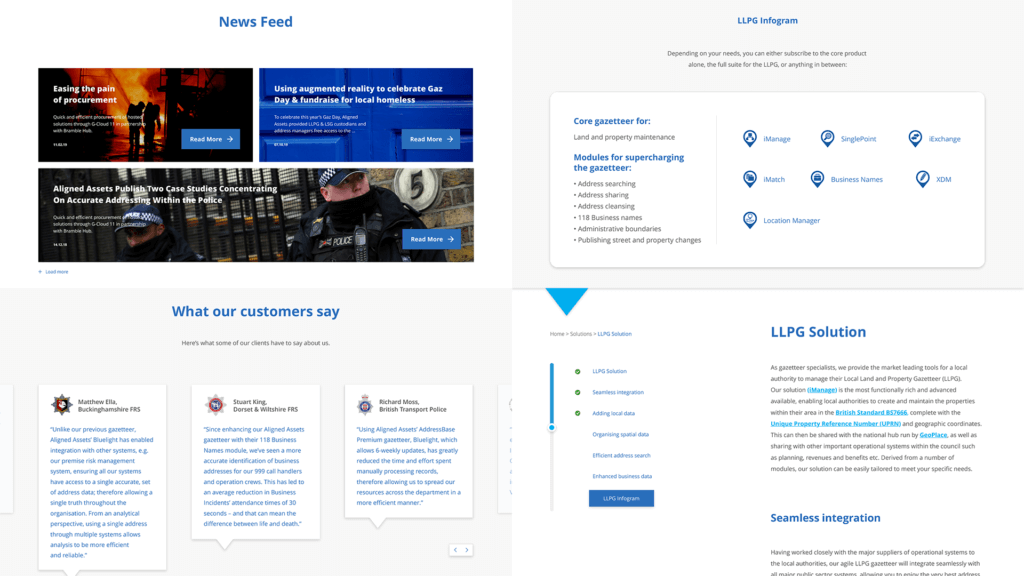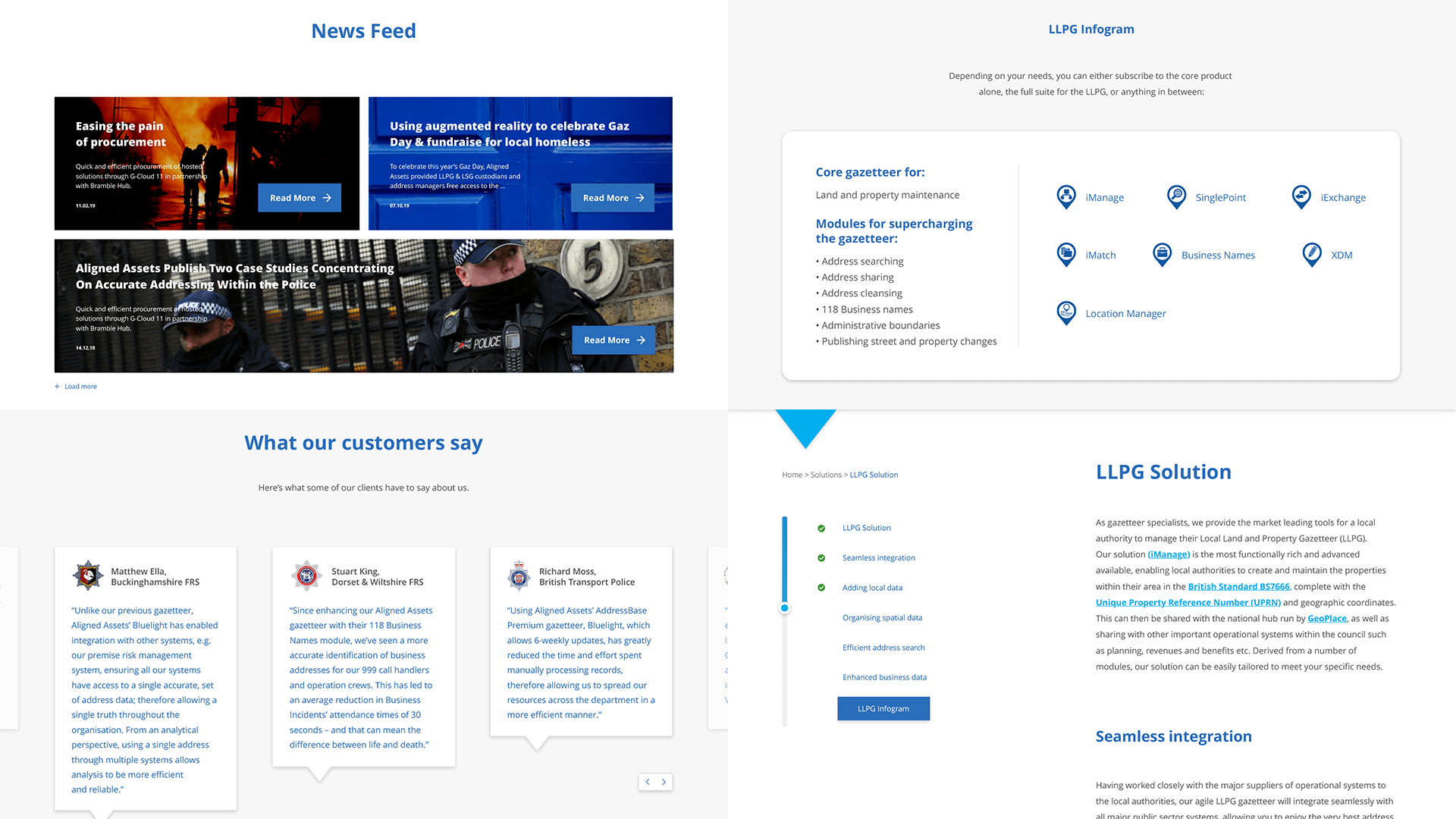 The results
There's some very positive evidence to show that visitors to the site are engaging for longer, and not falling at the first page.
Average time per session increased by more than 50% after the launch.
Bounce rate: 78.12% in Oct 2019 to just 12.54% in March 2020.
The number of pages per session has almost doubled since the launch of the new website.
The homepage continues to be either the number 1 or 2 most visited page but the bounce rate has dropped significantly from 55.52% in October to 11.53% in March, indicating engagement to click through.
The UPRN page continues to be either number 1 or 2 most visited page, and again, the bounce rate has dropped dramatically from 91.31% in October 2019 to 0.36% in March 2020 – showing that people are clicking through to other pages.